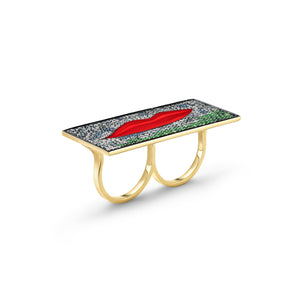 Apparel & Accessories
Venyx × Man Ray: Observatory Time "Toi et Moi" Ring
Regular price
Regular price
$12,820
Designed by Eugenie Niarchos for Venyx World, this double ring reinterprets Man Ray's iconic painting A l'heure de l'observatoire, les Amoureux (Observatory Time, The Lovers, 1932–34). The Surrealist painting is meticulously reproduced in enamel and set against a background adorned with 1.26 carat sapphires, 0.57 carat diamonds, and 0.76 carat tsavorite garnets. The striking flame-red lips—based on those of Lee Miller—float mysteriously above a wooded landscape, creating a powerful symbol of desire.
Drawing inspiration from a style popularized in the seventeenth century, toi et moi double rings traditionally feature two stones set side by side, symbolizing a special connection. Venyx takes a fresh, contemporary approach to this classic design, reimagining its form and paying homage to the romance between Miller and Man Ray.
The Gagosian Shop is the exclusive retail partner for the Venyx × Man Ray collection. Each limited-edition piece is made to order; the lead time for the Observatory Time "Toi et Moi" Ring is ten weeks.
More from Apparel & Accessories