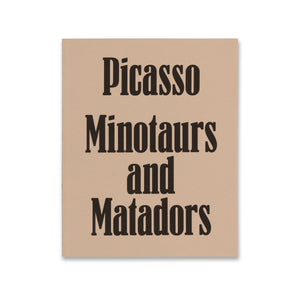 Books & Magazines
Picasso: Minotaurs and Matadors
Regular price
Regular price
$100
This book was published on the occasion of Picasso: Minotaurs and Matadors, an exhibition curated by John Richardson at Gagosian, Grosvenor Hill, London.
The exhibition examines the intersection of Picasso's bullfighting imagery with his mythological and biographical compositions of the 1930s. Including works dating from 1889 to 1971, this career-long survey traces Picasso's engagement with the ancient rituals and narratives of his native Mediterranean.
Though one of history's most innovative modernists, Picasso was grounded in the traditions of his Spanish heritage. Born in the southern port of Málaga in 1881, he was a lifelong aficionado of the drama of the bullfight; matadors, picadors, horses, and bulls were recurring subjects throughout his body of work, from his earliest childhood drawings to some of his final paintings.
The extensive volume includes essays by Richardson, noted Picasso scholars Michael FitzGerald and Gertje R. Utley, and historian of Greek art and archaeology Clemente Marconi.
More from Books & Magazines