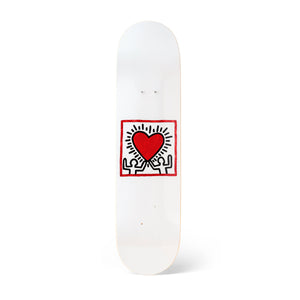 Gifts
Keith Haring: Untitled (Heart) Skateboard Deck
Regular price
Regular price
$220
The Skateroom has collaborated with the Keith Haring Foundation and Artestar to create this skateboard deck featuring a drawing by Haring.
It depicts two figures holding up a heart from which lines of energy emanate—a motif that recurs throughout the artist's oeuvre. This euphoric image reveals Haring's optimistic belief in humanity and the power of love.
The deck is intended for decorative purposes, but can be assembled into a functioning skateboard. A wall mount is provided to hang the edition on the wall.