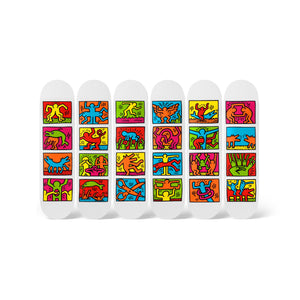 Gifts
Keith Haring: Retrospect Skateboard Decks
Regular price
Regular price
$915
The Skateroom has collaborated with Artestar and the Keith Haring Foundation to create this set of six skateboard decks featuring Keith Haring's Retrospect (1989).
Composed of a grid of twenty-four individual scenes, Retrospect includes a myriad of Haring's most iconic and repeated motifs, such as figures dancing, crawling babies, and barking dogs. These symbols embody Haring's messages of social justice and transformation, taking aim against all forms of oppression.
The decks are intended for decorative purposes, but can be assembled into functioning skateboards. One wall mount per deck is provided to hang the edition on the wall.