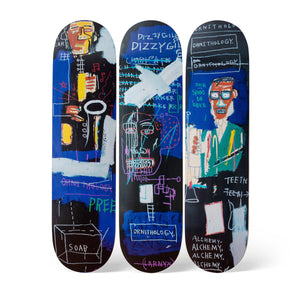 Gifts
Jean-Michel Basquiat: Horn Players Skateboard Decks
Regular price
Regular price
$550
Produced by the Skateroom in collaboration with the Estate of Jean-Michel Basquiat, this set of three screenprinted skateboard decks features Basquiat's painting Horn Players (1983). The triptych was first exhibited in March 1983 at Larry Gagosian Gallery in Los Angeles and is now in the collection of the Broad in Los Angeles.
Fusing drawing, painting, and text in acrylic and oil stick, Horn Players pulses with the improvisational energy and complex harmonies of bebop. The format of the three decks reproduces the three-panel composition of Basquiat's painted tribute to saxophonist Charlie Parker (left) and trumpeter Dizzy Gillespie (right). Repeated, crossed-out, and painted-over words add a linguistic dimension to the portraits, naming Parker's "Ornithology" (1946) and EAR, SOAP, FEET, TEETH, and ALCHEMY, among other personal and musical references. An avid musician himself, Basquiat often paid homage to jazz musicians, with Parker and Gillespie among his most frequent subjects.
The decks are intended for decorative purposes, but can be assembled into functioning skateboards. One wall mount per deck is provided to hang the edition on the wall.
More from Jean-Michel Basquiat