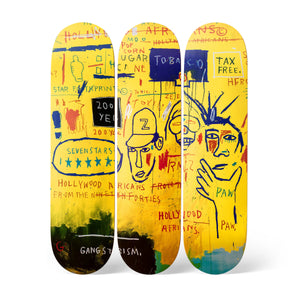 Gifts
Jean-Michel Basquiat: Hollywood Africans Skateboard Decks
Regular price
Regular price
$550
The Skateroom has collaborated with the Estate of Jean-Michel Basquiat to create this set of three skateboard decks featuring Basquiat's painting Hollywood Africans (1983).
Hollywood Africans is from a series of Basquiat's paintings that features images and texts relating to stereotypes of African Americans in the entertainment industry. It was painted while Basquiat was on an extended visit to Los Angeles in 1983. Several of the work's notations are autobiographical: the trio of figures on the right depicts the artist with the rap musician Rammellzee and the painter Toxic, who had traveled with him from New York, and he includes the digits of his birth date: 12, 22, and 60.
The decks are intended for decorative purposes, but can be assembled into functioning skateboards. One wall mount per deck is provided to hang the edition on the wall.
More from Jean-Michel Basquiat