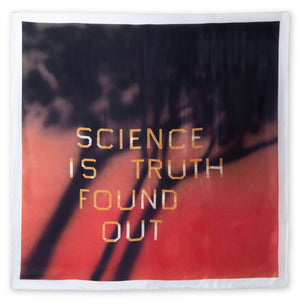 Prints & Editions
Ed Ruscha: Science Is Truth Found Out (RED)ITION Spring 2022 Scarf
Regular price
Regular price
$1,200
This limited-edition silk twill scarf by Ed Ruscha, produced by Massif Central, has been released by (RED) and Gagosian. 100% of sales will go to (RED), where the net proceeds raised will support the fight for equitable access to COVID relief in the world's most vulnerable communities. Doubling the impact, the Bill & Melinda Gates Foundation will generously match every dollar raised for the Global Fund.
In 1986 Ruscha made the original drawing on which the scarf is based, inspired by a phrase he saw inscribed in stone above the entrance to the science block of Los Angeles's storied Hollywood High School. In the current global political climate, where suspicion and demonization of science and medicine have been widespread, this prescient image has gained new resonance and topicality. In the processes of revelation in the often circuitous path toward truth, science and scientific thinking intersect with art—probing and searching intellectually and philosophically while seeking material consequences and outcomes. Like the most elegant of scientific theories, Ruscha's images and idioms are at once irreducibly straightforward and heroically expansive.
Orders will be limited to two editions per customer.
More from Prints & Editions