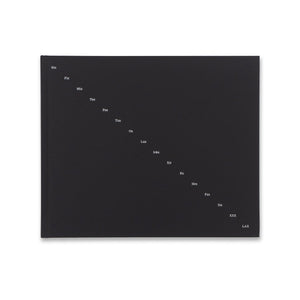 Books & Magazines
Ed Ruscha: Dedication Stones
Regular price
Regular price
$50
This book was published on the occasion of Ed Ruscha: Dedication Stones, a special exhibition of new drawings by the artist in Saanen, Switzerland. In each of the drawings, Ruscha renders a different short word or symbol containing the letter x, which for him represents the ultimate variable, an endlessly adaptable surrogate for other ideas. It is also a literal component of the terms and names he illustrates—Bix, Mix, Fix, Tax, and so on.
But while Ruscha engages with the words as abstract lingual units, their cultural associations ultimately remain in play; each drawing bears a subtitle that places its subject in a specific context. At the same time, the gray tonality, stippled texture, classical serif fonts, and trompe l'oeil pins depicted in the drawings suggest text chiseled in stone, galvanizing an association with monuments and tombstones—even as their "torn" edges seem to depict paper surfaces.
The catalogue features reproductions of the sixteen exhibited works, alongside installation photography.
More from Books & Magazines