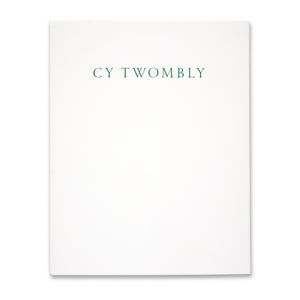 Books & Magazines
Cy Twombly: Sculpture
Regular price
Regular price
$100
This book was published on the occasion of the exhibition Cy Twombly: Sculpture at Gagosian, Grosvenor Hill, London. The volume is dedicated to Twombly's sculptural practice and brings together important and rarely shown works.
Twombly made his sculptures from found materials such as plaster, wood, and iron, as well as objects that he habitually used and handled in the studio. From 1946 onward, he created many assemblages, though they were rarely exhibited before the 1997 publication of the first volume of his catalogue raisonné. Often modest in scale, they embody his artistic language of handwritten glyphs and symbols, evoking narratives from antiquity and fragments of literature and poetry.
The publication includes a conversation between Nicola Del Roscio, president of the Cy Twombly Foundation; art historian and curator Sir Nicholas Serota; and Gagosian director Mark Francis.
More from Books & Magazines