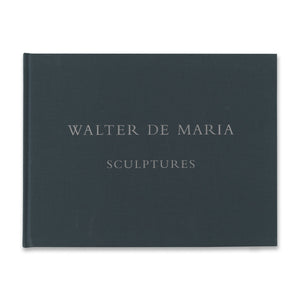 Books & Magazines
Walter De Maria: Sculptures
Regular price
Regular price
$80
This book was published on the occasion of the exhibition Walter De Maria: The 5-7-9 Series at Gagosian, Rome.
By arranging forms according to mathematical sequences, De Maria worked at the intersections of Minimalism, Conceptual art, and Land art—drawing attention to the limits of gallery spaces, prioritizing bodily awareness, and locating the content of an artwork in the viewer. This volume is dedicated to three sculptures by the artist: The 5-7-9 Series (1992/1996), Large Rod Series: Circle/Rectangle 11 (1986), and 13-Sided Open Polygon (1984). Each work represents a major series for De Maria during the last fifty years.
The bilingual (English/Italian) publication includes a two-part essay by Lars Nittve, explanatory texts on each work, a short history of three twenty-seven-part sculptures by De Maria, and a selected exhibition history.
More from Walter De Maria
More from Books & Magazines