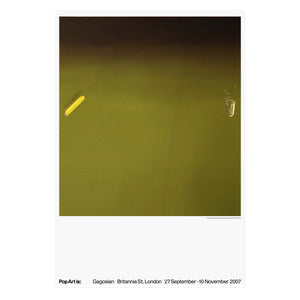 Posters
Pop Art Is. . . (Ed Ruscha)
Regular price
Regular price
$30
This poster featuring Bundle of Pencils, Breaking Glass (1968–69) by Ed Ruscha was produced in 2007, in conjunction with Pop Art Is. . . , a group exhibition at Gagosian, Britannia Street, London.
Pop art erased the boundaries between high and low culture to create many of the twentieth century's iconic images. Marking the fiftieth anniversary of Richard Hamilton's visionary definition of the movement, this exhibition considered the ways in which artists, past and present, respond to constantly changing ideas about what Pop art is.
Bundle of Pencils, Breaking Glass exemplifies Ruscha's engagement with everyday objects, manipulating conventions of scale and representation in trompe l'oeil depictions of shadows, water drops, and glass shards.