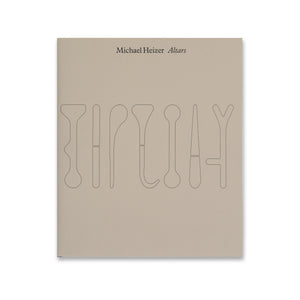 Books & Magazines
Michael Heizer: Altars
Regular price
Regular price
$100
This book was published on the occasion of Michael Heizer: Altars at Gagosian, 555 West 24th Street, New York. It documents Heizer's first exhibition with the gallery, comprised of rarely or never-before-seen early paintings, the Altar series of new monumental steel sculptures, and negative wall sculptures featuring metamorphic and igneous rocks.
Working largely outside the confines of gallery and museum, Heizer has redefined sculpture in terms of size, mass, gesture, and process. In the late 1960s, he relocated to New York, while continuing to travel and live in the open terrain of the American West, where he has since created awe-inspiring works of Land art. Heizer draws on both ancient and contemporary architecture and art, cultivating tons of materials, including dirt, rock, and steel, in his quest to create a "permanent American art."
The volume includes a text by Ruth Fine that discusses the exhibited works, alongside extensive photography of the installation process and exhibition. An in-depth conversation between Heizer and Kara Vander Weg introduces an illustrated historical overview of the artist's oeuvre, which is followed by an exhibition history and bibliography.
More from Books & Magazines