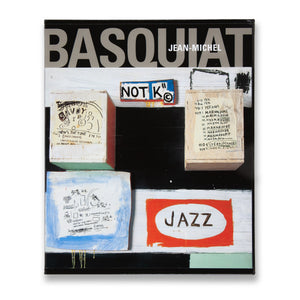 Rare Books
Jean-Michel Basquiat
Regular price
Regular price
$5,500
This is the most up-to-date edition of the Jean-Michel Basquiat catalogue raisonné of paintings. Released in 2010 with an all-important and previously unissued appendix, the three-volume set is offered in its original slipcase.
The appendix gathers updates including a substantial number of new works, documentation of films about and featuring Basquiat, and installation images from his 2010 exhibition at Fondation Beyeler, Riehen/Basel, Switzerland. The catalogue raisonné features an introduction by Enrico Navarra; texts by Johnny Depp, Richard D. Marshall, and Jean-Louis Prat; an essay by Achille Bonito Oliva; and engaging remembrances by Diego Cortez, Annina Nosei, Glenn O'Brien, and others. Bruno Bischofberger contributes a reflection on his experiences facilitating Basquiat's collaborations with Francesco Clemente and Andy Warhol.
This publication has become exceedingly difficult to obtain in recent years and this copy is in mint condition.
More from Jean-Michel Basquiat