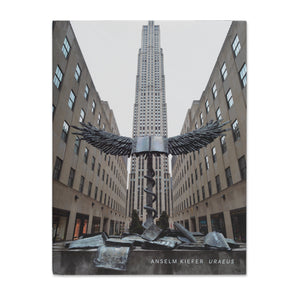 Books & Magazines
Anselm Kiefer: Ureaus
Regular price
Regular price
$50
This book was published on the occasion of Anselm Kiefer: Uraeus at Rockefeller Center, New York. It centers on the artist's first site-specific public sculpture in the United States, commissioned by the Public Art Fund and Tishman Speyer, and presented by Gagosian.
The work consists of a gigantic open book with eagle's wings spanning 30 feet wide, both made of lead, mounted on top of a 20-foot-tall lead-clad stainless-steel column. Clustered around the base are more outsize lead books, while a large snake coils up the column.
The publication includes photography of the work in situ along with an adapted and expanded transcript of a conversation held between the artist and Richard Calvocoressi at the New School, New York. A text by Nicholas Baume, chief curator of the Public Art Fund, describes the journey of this artwork from conception to completion.
More from Books & Magazines