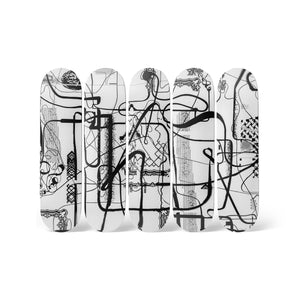 Gifts
Albert Oehlen: Untitled Skateboard Decks
Regular price
Regular price
$850
The Skateroom has collaborated with Albert Oehlen to create this set of five skateboard decks featuring his painting Untitled (2007), which is part of the Pinault Collection.
The selected work is from the artist's computer paintings series in which he silkscreened drawings made using the nascent capabilities of a '90s computer on canvas, enlarging the digital images to emphasize their pixelation and crudeness.
The decks are intended for decorative purposes, but can be assembled into functioning skateboards. One wall mount per deck is provided to hang the edition on the wall.