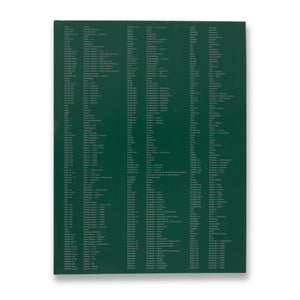 Books & Magazines
Taryn Simon: The Color of a Flea's Eye: The Picture Collection
Regular price
Regular price
$150
Taryn Simon's The Color of a Flea's Eye: The Picture Collection presents a history of the New York Public Library's Picture Collection—a legendary trove of more than one million prints, photographs, postcards, posters, and illustrations from books and periodicals established in 1915.
In Simon's body of work utilizing images from the Picture Collection, she highlights the impulse to organize visual information and points to the invisible hands behind seemingly neutral systems of image gathering. Each of her photographs incorporates an array of images selected from a given subject folder, such as Chiaroscuro, Express Highways, or Financial Panics. In these artfully overlapped compositions, only slices of the source images are visible, each fragment suggesting its whole. Simon regards this extensive archive of images as the precursor to Internet search engines; the digital is foreshadowed in the analogue, at the same time that history—its classifications, its contents—seems the stuff of projection.
Produced in direct collaboration with the artist, the book contains fifty-seven hand- tipped plates, numerous gatefolds, and a variety of unique papers, as well as essays by Joshua Chuang, head of the NYPL's Wallach Division of Art, Prints, and Photographs, and Tim Griffin, former executive director and chief curator at the Kitchen.
More from Books & Magazines