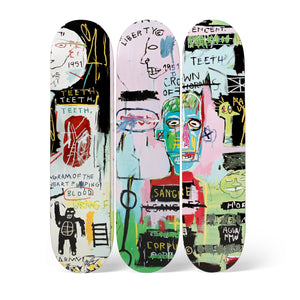 Gifts
Jean-Michel Basquiat: In Italian Skateboard Decks
Regular price
Regular price
$550
The Skateroom has collaborated with the Estate of Jean-Michel Basquiat to create this set of three skateboard decks featuring Basquiat's painting In Italian (1983).
Basquiat was a denizen of the explosive and decadent New York underground scene—a noise musician who loved jazz, and a street poet who scrawled his sophisticated aphorisms in Magic Marker across the walls of downtown Manhattan, copyrighting them under the name SAMO. In 1981, he began painting and drawing—first on salvaged supports, then later on canvas and paper—and making bricolage with materials scavenged from the urban environment.
The decks are intended for decorative purposes, but can be assembled into functioning skateboards. One wall mount per deck is provided to hang the edition on the wall.
More from Jean-Michel Basquiat