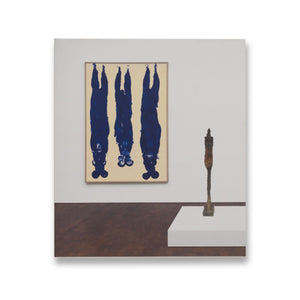 Books & Magazines
Alberto Giacometti | Yves Klein: In Search of the Absolute
Regular price
Regular price
$150
This publication was produced on the occasion of Alberto Giacometti | Yves Klein: In Search of the Absolute, the first-ever exhibition to pair key works by these two artists, curated by Joachim Pissarro at Gagosian, Grosvenor Hill, London.
At first glance, Giacometti and Klein, born a generation apart, could not be more different: Giacometti was a master of material form and figurative representation, while Klein was an influential theorist whose art married the conceptual with the cosmic. This two-volume set explores what they did have in common: an acute consciousness of the catastrophic effects of World War II and its aftermath on European culture. In the conceptual and working processes of both artists, "nothingness" became "the void"—a space of infinite potential.
The first volume features new essays by curator Joachim Pissarro with Danielle Peterson Searls, Cecilia Braschi, and Richard Calvocoressi; conversations between Catherine Grenier and Pissarro and between Daniel Moquay and Pissarro; and never-before-translated texts by Dino Buzzati, Pierre Descargues, and Isaku Yanaihara. The texts are complemented by detailed illustrated chronologies and numerous archival images of both artists. The second volume includes color plates and installation images of all the works in the exhibition.
More from Books & Magazines