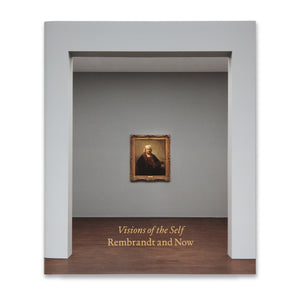 Books & Magazines
Visions of the Self: Rembrandt and Now
Regular price
Regular price
$80
This book was published on the occasion of Visions of the Self: Rembrandt and Now at Gagosian, Grosvenor Hill, London, an exhibition presented in partnership with English Heritage. The volume centers on Rembrandt's masterpiece Self-Portrait with Two Circles (c. 1665), from the collection of Kenwood House in London.
The painting is considered to be Rembrandt's greatest late self-portrait and is accompanied here by examples of the genre from leading artists of the past century, including Francis Bacon, Georg Baselitz, Jean-Michel Basquiat, Glenn Brown, Urs Fischer, Lucian Freud, Damien Hirst, Howard Hodgkin, Giuseppe Penone, Pablo Picasso, Richard Prince, Cindy Sherman, and Rudolf Stingel, among others. Also featured is a new work by Jenny Saville, created in response to Rembrandt's masterpiece.
The publication features an introduction by Wendy Monkhouse, senior curator at English Heritage, and a text by art historian David Freedberg that provides a close look at the self-portraits created by Rembrandt throughout his life and considers the Dutch master's influence on modern painting.
More from Books & Magazines