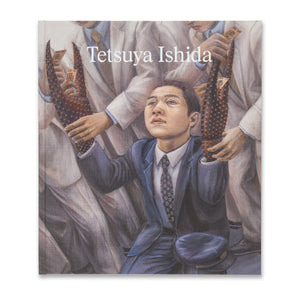 Books & Magazines
Tetsuya Ishida: My Anxious Self
Regular price
Regular price
$100
This book was published on the occasion of Tetsuya Ishida: My Anxious Self at Gagosian, 555 West 24th Street, New York. Curated by Cecilia Alemani, My Anxious Self was the most comprehensive exhibition of the late artist's work to have been staged outside of Japan, and his first ever in New York.
Over the course of just ten years, Ishida produced a striking body of work centered on the theme of human alienation. He emerged as an artist during Japan's "Lost Decade," a recession that lasted through the 1990s, and his paintings capture the feelings of hopelessness, claustrophobia, and disconnection that characterized Japanese society during this time. Before his untimely death in 2005, Ishida conjured allegories of the challenges of contemporary life in paintings and works on paper charged with Kafkaesque absurdity.
The catalogue reproduces more than ninety works in color and features a foreword by Larry Gagosian, an introduction by Michiaki Ishida, illustrated essays by Alemani and Diethard Leopold, and "The Red Cocoon," a short story about a surreal metamorphosis by award-winning Japanese writer Kobo Abe.
More from Books & Magazines