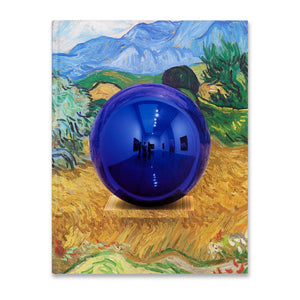 Books & Magazines
Jeff Koons: Gazing Ball Paintings
Regular price
Regular price
$100
Even though Koons openly continues to pay allegiance to the culture of the readymade, his oeuvre in general—and this body of work in particular—belies this allegiance by actually turning the logic of the readymade on its head.
—Joachim Pissarro with Alyssa Ovadis
This book was published on the occasion of the exhibition Jeff Koons: Gazing Ball Paintings at Gagosian, West 21st Street, New York. It is the first publication dedicated to the artist's Gazing Ball paintings, featuring thirty-five works from the series.
In these paintings Koons makes direct reference to canonical works of art. In each composition, a blue mirrored, hand-blown glass gazing ball reflects its surroundings, uniting painting, sculpture, and architecture in order to multiply sensory experience. Like much of Koons's work, the Gazing Ball series reactivates and intensifies familiar scenes, whether from legend or the everyday, reflecting and affirming viewers and their environments.
This volume features new texts by Donatien Grau and Joachim Pissarro with Alyssa Ovadis.
More from Books & Magazines