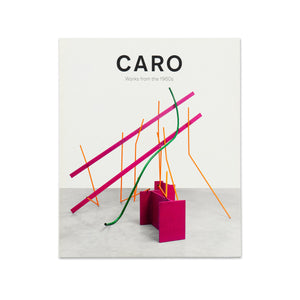 Books & Magazines
Caro: Works from the 1960s
Regular price
Regular price
$80
This book was published on the occasion of Anthony Caro: Works from the 1960s at Gagosian, Beverly Hills, an exhibition of early sculptures by the artist.
Following a pivotal trip to the United States in 1959, Caro began a new approach to form, color, and presentation, inspired by David Smith's transposing of impulsive painterly lines into welded and forged metal. These exuberant steel and aluminum sculptures unfold within the personal space of the viewer, shifting dramatically in appearance as one walks around them. Although they mark a departure from the figure as subject, a sense of liberation from the concentrated weight, scale, and ordered naturalism of the body endures.
The publication highlights ten large-scale sculptures from the decade and four table pieces made between 1967 and 1972, complemented by numerous historical photographs of Caro and the works. It features a new essay by Tim Marlow that tracks Caro's development as a sculptor, as well as Rosalind Krauss's 1967 Art International article on the artist and the nature of sculpture.
More from Books & Magazines