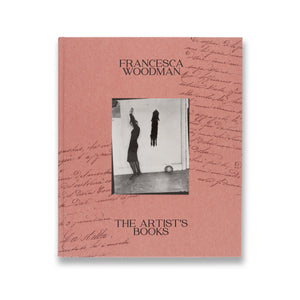 Books & Magazines
Francesca Woodman: The Artist's Book
Regular price
Regular price
$80
This comprehensive volume, published in association with the Woodman Family Foundation, reproduces for the first time all eight of Francesca Woodman's unique artist's books, including two newly discovered, previously unseen books. All of the books except for one are printed at actual size.
Made between 1976 and 1980 in Rome, New York, and Providence, Rhode Island, the books were created with tattered journals and notebooks that Woodman collected from Roman bookshops and flea markets. She transformed these found books by inscribing them and adding prints and transparencies of her photographs, foregrounding her interest in sequencing, juxtaposition, and metaphor.
The publication includes descriptive notes for each book and an essay discussing Woodman's engagement with the book form by Katarina Jerinic, curator of the Woodman Family Foundation. One of Woodman's artist's books, Some Disordered Interior Geometries (1980), was produced during her lifetime and published by Synapse Press in 1981, yet this aspect of her practice has received relatively little attention until now.
More from Books & Magazines